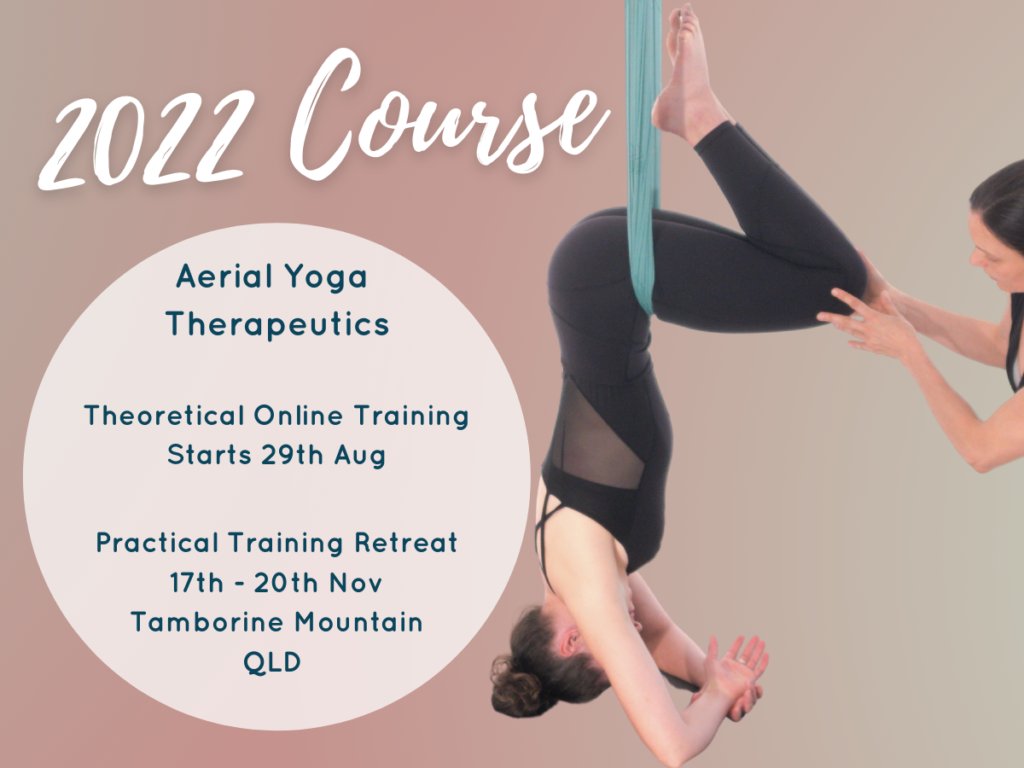 Unlock the Aerial Hammock's Therapeutic Potential
This course is held only once a year -
Plan your learning journey now!
Learn how to harness the key therapeutic benefits
of the aerial hammock for special populations
Over four months, beginning from August 29th, 2022 you will delve into the online theory of therapeutic applications of aerial yoga supported by 10hrs live-streamed practical sessions and Q&A with lead facilitators of the course. In the final month of the course, we will meet for a four-day practical training intensive from November 17 - 21st, 2022. You may choose to attend via live-stream from the comfort of your own home or studio, or attend in person with a retreat-style experience of learning in Tamborine Mountain where you can fully immerse yourself without any other distractions!
*This course requires a preliminary course pre-requisite (also offered in a course bundle) or preexisting health professional qualification.
What to see a little more on one of the subjects of this course?
Take a sneak peek at one of our therapeutics theory lessons here or check out the course outline below:
Discover the benefits of the Aerial Hammock!
Aerial Essentials Teacher Training 2022
July 28 - 31st in Wynnum, Brisbane.
Save $300 with our Early Bird offer before July 8th 2022.
This course can be taken
as a stand-alone introduction to Aerial instructorship
or combined with the FULL 200HR Teacher Training Course.
Essentials is a 50hr instructor training that is comprised of preliminary
10hr online theoretical training followed by a four-day intensive practical training
(delivered live and live-streamed).
Students have access to their online theory platform from the day of enrollment and purchase of
the course, which is great for those who wish to take their time through the theory.
This course is designed to equip instructors with comprehensive instructional,
theoretical and practical knowledge to be competent and confident in
delivering effective group aerial classes.
Want to see more of what this course offers?
Take a sneak peek of the Aerial Essentials Manual
and Online Theory Course outline below
This course will be delivered only once in 2022!
Book your place for the 19 - 21st August 2022 training today to ensure your spot.
You may choose to complete this as a stand-alone course or as part of a training
course bundle.
Advanced Aerial Instructor Training provides you with a preliminary 20hrs of
online theory and a three-day practical training intensive (live or live-streamed) to assist
you in becoming a diverse Aerial Instructor able to cater to all levels,
and bring creativity to life in the air!
Want to see more about what you will learn in this course? Take a sneak peek at one of our anatomical theory lessons here or check out the Online Theory Course outline below:
This Self-Study Program allows the practitioner the opportunity for self-directed learning. This is designed for the aerial practitioner who wishes to go deeper into their personal home practice or take their time to prepare for taking the next step into teacher training. This course provides you with a downloadable workbook to track your learning and progress, and an exercise manual and video library to help you understand how to apply your practice to meet your personal needs. To reap the most from this process, this Self-Study Program is combined with 3 hours of mentorship with Renae (which can be delivered live or virtually) to help you master and nuance the aerial technique.
Take a sneak peek at a home-practice video below: